Commercial Roofing Repair
Tulsa Commercial Roofing - Repair
Commercial roofs are expensive! That's why we dedicate a portion of our services to providing sensible and cost effective repair solutions. We pride ourselves in giving honest assessments. Part of that honest assessment is exploring and informing when a roof repair will work in lieu of a replacement. C and S Roofing has been in business in Tulsa nearly 30 years and will continue to play the long game for years to come. We work with our customers to determine the best possible solution based on needs and current situation. If a repair works we will show you how.
We provide a transparent breakdown of services suggested and the cost associated with the commercial roof repair. Once a repair is completed there is a warranted service period for at least one year up to 5 years depending on the scope of repair. We will inform you of exactly how long you can expect the repair to protect your commercial building, as well as what your next steps are once the life of the repair has expired.
Preventative Maintenance Plans for Tulsa Commercial Roofs
We also offer customized roof maintenance plans that will help prevent or troubleshoot issues before they become problematic.
On-site inspections
Lifetime assessment
Customize Maintenance Plans
Roof Lifespan Projections and Extension
Anticipates and corrects issues before they occur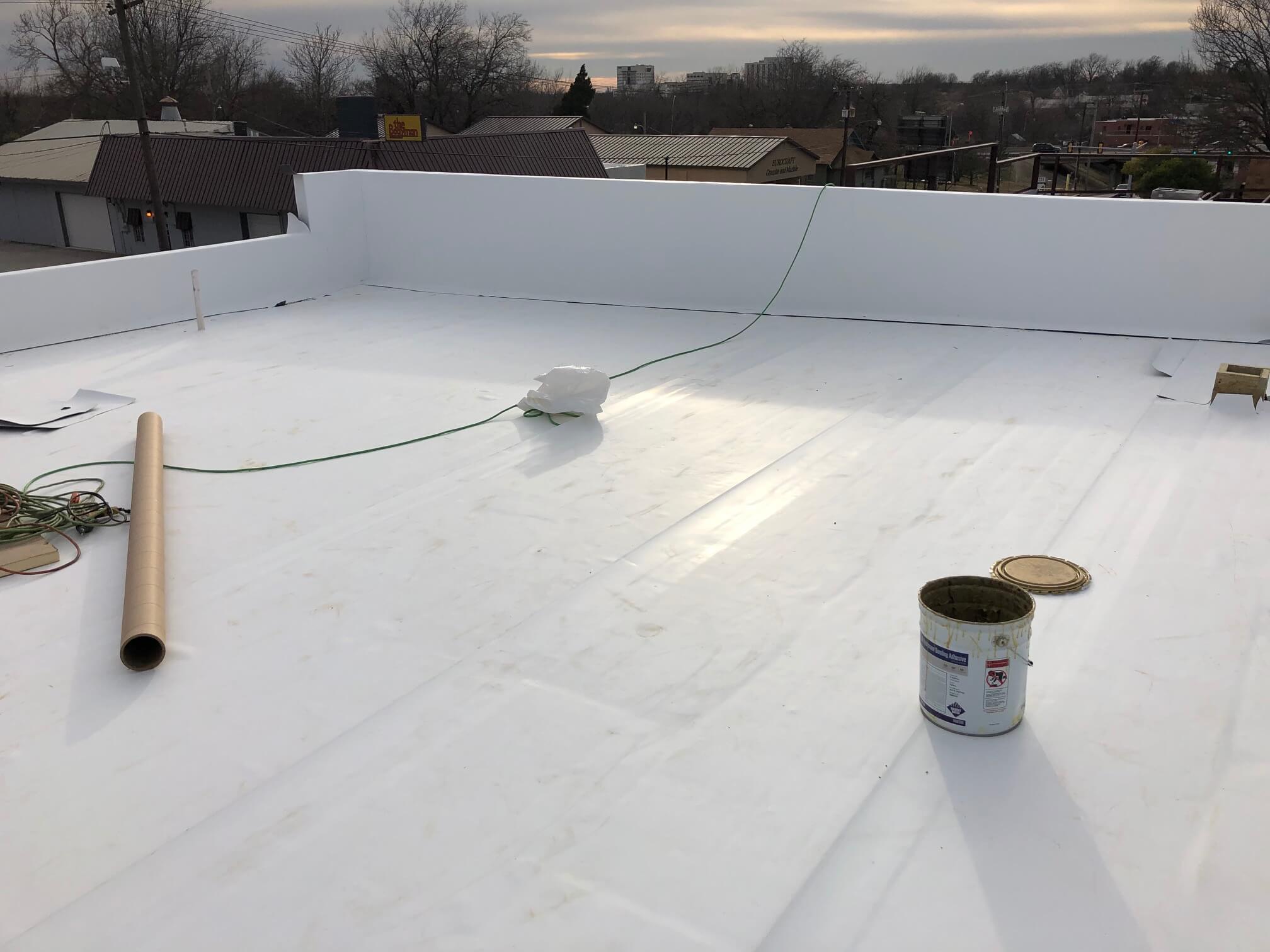 ---
Asphalt Shingle Repair
Wind Damage
Leak Repair
Hail Damage Repair
Foot Traffic Repair
Modified / Built-up Repair
Reinforced patches
Ponding Water Issues
Puncture Repair
Additional Services
Concrete Tile Repair
Slate Repair
Standing Seam Repair
Wood Shake Repair
Gutter and Sheet Metal Repair
Single Ply Membrane Repair
Roof Coatings
Reflective Coatings
Modified Asphalt Coatings
Metal Coatings
---

"These guys are the best in the business, fair priced and QUAILITY workmanship. I'm so glad we use them.
M. Ibarra of Tulsa, OK

"Prompt and professional. They walked me through a commercial job and assisted me on the timeline of which trades needed to go in what order. They were also 20% cheaper than another bid that I received. Very pleased!"
W. Short of Tulsa, OK

"These guys are unbelievable. Every nail, shingle , everything picked up . Perfect job."
Creitz Automotive of Tulsa, OK
---
We use the highest Quality of Materials
Reach Out to Us
Speak to our Sales Rep, Joe Uzzel